ONDAMED® GmbH,was founded in 1994 by Rolf Binder, who developed the ONDAMED® Biofeedback System after 25 years of research in biophysical medical testing and therapy. Binder is well known for developing Bio-terrain and EAV measurement devices, and other Medical Electronics equipment.
Founder, Ondamed inc. & Ondamed GmbH: Rolf Binder
| | |
| --- | --- |
| Over the past 20 years Rolf Binder has been working as an electronics engineer specializing in Technology and Medical Electronics. He was the leader of several Research & Development divisions of German Medical Equipment Companies focusing on biophysical testing and therapy applications. Binder developed a series of well-established and known therapy systems. The idea for a new therapy evolved due to the shortcomings of existing modalities and in 1993 Binder founded his own company, manufactured the first prototype and in 1994 the ONDAMED® Biofeedback System was launched. Binder is the sole inventor of the ONDAMED® Biofeedback System. | |
| In 2002, the company opened its U.S. subsidiary, Ondamed Inc. and currently has customers around the world. | |
President & CEO, Ondamed inc. & Ondamed GmbH: Silvia Binder
| | |
| --- | --- |
| Silvia Binder became CEO and President for ONDAMED® in 2002. Silvia brings entrepreneurial leadership with a great deal of international experience to the management team. She previously managed both start-ups and on-going operations in the U.S for a large German semiconductor company. Her experience in business, marketing and finance draws from 16 years of professional accomplishments. She enjoys "bringing people and continents together that share a common goal in the interest of serving people". | |
Below from left: George Hamilton, Rolf Binder, Silvia Binder: Las Vegas, American Academy of Anti Aging Medicine, A4M, December 2006.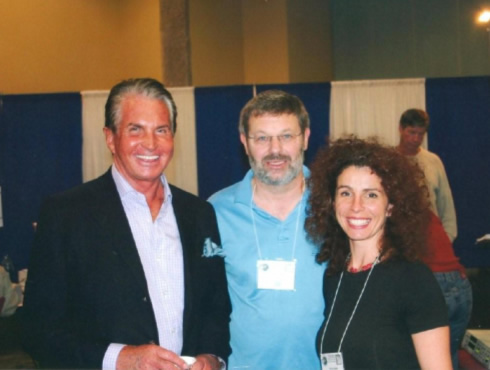 ONDAMED Inc.
ONDAMED GmbH
80 Waterview Terrace
New Windsor, NY 12553
U.S.A.
Phone:

845-496-6673


FAX:845-496-1223
support@ondamed.net
Kurzeller Str.18
77963 Schwanau
Germany
Phone:

+49-7824-6466-0


FAX:+49-7824-6466-19
kontakt@ondamed.de